Cathy Riva, Event Planner, Riva Events
By Laurie Bain Wilson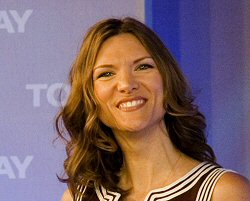 Image courtesy of Riva Events
The Today Show is just the latest national television program to feature well-known marketing and party planning expert, Cathy Riva, owner of Riva Events, in New York.
Here, the transplanted Southerner shares innovative ways to create events that are high in style and easy on the budget.
Party food strategies: Riva says that her basic premise for event-planning on a budget is easy: "It's more important to have good food and good music," than to have stand-out décor.
For maximum impact, Riva advises, "Create a relatively low-cost 'Oh, Wow' moment with a specialty cocktail or dessert bar. Don't sacrifice the 'Wow' factor."
Stretch your party food budget: With high food prices these days, it's tough to feed a large crowd and save money. "But you can do it," says Riva. For example, for a great summer barbecue, Riva smothers chicken legs in a tangy sauce and grills them until crisp, and then serves them on a long platter, with lemon-scented wet napkins from Sur La Table close by, to clean hands.

Serve trendy grains: One great way to help event food dollars go further and also add tasty ingredients is to serve such trendy, international cuisine staples "couscous, risotto, and whole grain rice. Serve them under a smaller main entrée," suggests Riva.
"I also recommend using seasonal foods for flavor and savings," she says. "When choosing color schemes, I use colors that Mother Nature created for the season. I try to do the same for food selections."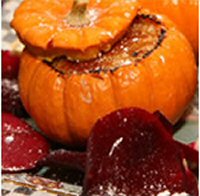 Image courtesy of Riva Events
"For a fun fall idea, I love making soup or risotto and serving it in small hollowed-out pumpkins. This works well for small parties," she says.
Organic food is worth it: "Organic food costs more and that scares some people away," adds Riva. However, "I recommend spending a little more to serve organic. Personally I feel the long term savings far out way the short term costs."