Cathy Riva, Event Planner, Riva Events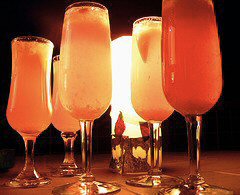 Best beverages on a budget: "Serve a nice selection of wine and a vodka-based cocktail and you will please almost every guest,"' Riva maintains.
The reason vodka works best? "Almost everyone drinks this spirit and you can mix it with inexpensive soda water and tonic or juice," she says. "It's very versatile. I love any vodka drink made from fresh fruit. I make a great screwdriver with fresh muddled oranges and dash of lime and Absolut vodka.
"Top it with Champagne," she continues, "and you have a perfect brunch cocktail too." The vodka of choice right now of celebs? According to Riva, P-Diddy loves Ciroc and George Clooney prefers Belvedere.
On Riva's Web site, she also suggests a delicious and elegant departure from the traditional Kir Royale: Fraise Royale. It's made with strawberry liqueur (she recommends Fragolino di Nemi wild strawberry liqueur) "and your favorite bottle of bubbly." The perfect garnish, she adds, "Top the cocktail with a fresh berry, of course."