Welcome to Celebrate with Style!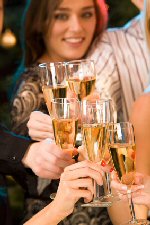 Our mission
Celebrate with Style, a division of JBA Media Group (see below), is the go-to resource for people who plan and enjoy wonderful celebrations—from warm at-home parties to fabulous gala events.
For readers: You'll find valuable tips from top celebrations experts on food for parties, celebrations for birthday kids and teens, party flowers and décor.
You'll also find great products from our sponsors and marketing partners—to help you entertain beautifully; hostess gifts and other affordable gifts, and fashion party clothing, among others.
For celebration pros: Stand out and grow your business—whether you're a restaurant owner, event planner, floral designer, party fashion retailer, entertainer, party goods merchant, or operate any type of party business. We offer you many opportunities for visibility, as well as new Web and print custom marketing programs, and advertising opportunities.
About us:
JBA Media Group: Experience to serve you better

Celebrate with Style is a publishing venture of JoAnne Alter, president and editorial director of JBA Media Group, and before that, of Vericom Custom Publishing, Inc., both custom publishing companies.
In addition to Celebrate with Style, Alter has created Tips from the Experts, a vehicle that lets business owners and executives share their knowledge, experience, ideas, and advice—powerfully, yet effortlessly!
Publishing and marketing success
What differentiates JBA Media Group from most other marketing businesses? Decades of success in business and consumer writing, editing, and publishing--as well as knowledge of the best and latest integrated marketing strategies. That experience lets us help clients show their knowledge without clichés or the hype that turns customers off. It also lets us keep clients from wasting their money on marketing programs that aren't right for them.
Consumer magazines and newspapers: For 13 years, Alter served as a Contributing Editor of Family Circle magazine. She created special-subject magazines, supplements, and dozens of features read by millions of readers. She also has created multimedia and magazine concepts for what is now Meredith Integrated Marketing. And she created special sections and features for highly diverse publications, such as Self, Better Homes & Gardens, the New York Post, the Journal of Accountancy, and the New York Daily News Sunday Magazine.
Custom marketing programs: Alter has developed customer information programs for many of the world's top pharmaceutical companies. Among them: Novartis, Bayer, Eli Lilly & Company, Solvay, AstraZeneca, and Wyeth—all of which she worked with repeatedly and on multiple projects.
The goal for each of these programs: To provide our clients' customers with interesting and valuable patient care or healthcare business information--not promotional sales pitches--thereby enhancing each client's leadership positioning. To see case-study details of some of the marketing programs Alter created within the health care field, see JBA Media Health.
New programs: The Valued Customer Club, begun by JBA Media Group in mid-2010, is possibly the easiest and most affordable customer loyalty program available for small businesses today. It's offered for free to any business that signs up for an e-mail marketing program.
JoAnne Alter
Publisher and Editorial Director
Follow me on Twitter




Adrienne Grace
Creative Director
Corinne Zachary
Contributing Editor
Follow me on Twitter

Patrick Lucas
Technology Consultant

Laurie Bain Wilson
Contributing Editor
Visit us often
We're always adding new features. Check them out—and also check out our blog. We'll be showcasing members of our commmunity, bloggers, our marketing partners, and talented people everywhere.
We hope you'll feel free to comment, ask questions, offer advice, and share your favorite party experiences and your recipes. We'll credit each and every contribution.
Please feel free to contact us at:
Celebrate with Style, LLC
4 Devon Road
Great Neck, NY 11023
(516) 487-3410
info@CelebratewithStyle.com