Planning a Fun Bachelorette Party
By Debbe Geiger
Bachelorette parties used to conjure up images of brides letting loose one last time before they tie the knot. But these days, the all-girl gatherings are more likely to be about bonding than getting drunk and watching men take their clothes off.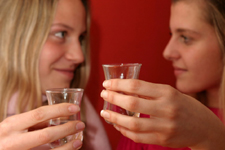 Girls just want to enjoy each other
"A lot of people just want to spend quality time with their friends," says Cynthia Smuss, a wedding planner with Creative Occasions in Huntington, New York. "Getting married is a big step, and many brides prefer to spend special time with their closest friends and family members."
That doesn't mean that today's bridal party members don't want to have fun. Many still enjoy dressing up as "Divas" for the evening.
Rather, they are finding that tailoring the bachelorette party to a theme allows the group to socialize in a more creative atmosphere. Here are some examples of how brides-to-be and their closest friends and relatives are doing just that:
The Awesome '80s Prom
Take a journey back to the days of big hair and spandex through this reality theater production that takes place every Saturday in downtown Manhattan's Webster Hall. The scene is a prom from the 1980s; the characters hail from classic '80s movies like Pretty in Pink and The Breakfast Club; and the music is by Journey, REO Speedwagon and Cyndi Lauper.
"Our theme is girls just want to have fun," says the show's producer, Ken Davenport, who says the interactive show is a favorite among women of all ages and groups of all sizes. "They can get crazy and have a few drinks in a safe, fun environment."
Prices range from $49.99 per person for the show, to packages that run $89.99 for admission, open bar, prom photo, and favor. For an extra $25. the bride-to-be receives a tiara, sash, VIP admission and "extra special attention" from the show's male characters. Visit www.awesome80sprom.com for more information.
Image source: The Awesome 80s Prom.
More ideas for the parties surrounding weddings