Cathy Riva, Event Planner, Riva Events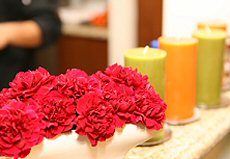 Image courtesy of Riva Events
Low-cost flowers and lighting. " It's often cheaper to have seasonal flowers," says Riva. For the most impact, "I often use flowers such as marigolds in the summer and carnations in winter to make lovely centerpieces."
Riva adds, "I think flowers are more powerful when only one or two colors are used in an arrangement. Even a bouquet made up of only baby's breath looks great all by itself!"
When it comes to lighting, Riva, like many other top event planning experts, is a big fan of using candles. "My friend and mentor, David Monn, has a theory that people respond to flame because it's an energy that we can connect to. On the other hand, fluorescent lights are cold and unfriendly," says Riva. "I love candles. Sometimes I will carve out seasonal tomatoes or fruits and use them as candleholders."