Cathy Riva, Event Planner, Riva Events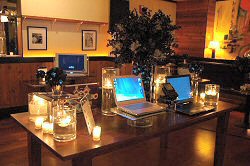 Image courtesy of Riva Events
Business events and fundraisers
Clever centerpieces: "I think folks are getting more creative with centerpieces, especially on tight not-for-profit budgets," says Riva. "Instead of traditional flowers they are using candles, paper flowers, photo trees and other items that are not as expensive.
[Editor's note: Look how cleverly Riva integrated her client's products into the table décor of a party held during the holidays.
Blue Christmas ornaments filled glass vases, while votives and floating candles drew attention not only to the glimmering ornaments, but also to the blue screens of the computers, sitting on glass and standing out as decorative focal points.]
Fun fundraisers: Riva recalls another fresh take on party décor: "Using balloons as the centerpiece was one fun idea that I heard worked well at an office fundraising auction. The balloons were all different sizes but in the same color—orange." People at the tables bid for the centerpieces, she explains. This auction was just one of the ways that event organizers were able to raise money during the event.
The key to success for any live auction? "A great auctioneer," says Riva. "A good auctioneer can create energy and encourage the bidding wars."
Click here to visit the Riva Events Web site.