Warm-weather "Country Club Casual"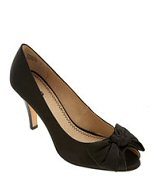 BP. 'Fabulous' Pump
Available at Nordstrom
SHOES Pull the look together
Footwear can bring tops and bottoms together perfectly and make the dressy-casual look work well. Here are some styles that kick casual up a notch.
Strappy:—This season, strappy sandals with thin heels add a classy finish to a casual pants suit or pencil skirt. Consider patent leather, animal prints and shoes with embellishments.
Peep toe:—A beautiful pair of peep toe shoes in a colorful solid, print or pattern looks great with dressy pants.
Embellished flats:—These comfortable shoes can also carry the casual look. Choose a pair embellished with faux jewels, a big bow, or belt buckle. Metallic flats in bronze, gold and silver are also very popular. Just make sure they are not too casual; avoid chunky rubber soles.