Salsa steak sticks
Serves 32 appetizers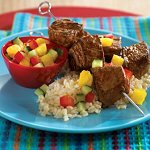 Ingredients
1 1/2 lbs. top sirloin steak, cut into 3/4-inch cubes
1 cup medium salsa
1/4 cup vegetable oil
1 1/2 tsp. lemon pepper
1/2 tsp. seasoned salt
1 tsp. garlic powder
32 wooden skewers
Instructions
Mix salsa, vegetable oil, lemon pepper, seasoned salt and garlic powder together in a glass dish or large sealable plastic bag.
Marinate beef cubes for 2-6 hours in refrigerator.
Thread two beef cubes onto each 4-inch wooden skewer (Tip: soak wooden skewers in water before threading beef so skewers will not burn).
Grill over medium coals for 5-7 minutes (steak sticks can also be broiled 3-4 inches from heat). Turn occasionally.
Source: Adapted from the Texas Beef Council and photo by the Idaho Beef Council
More delicious food for parties