Warm-weather "Country Club Casual"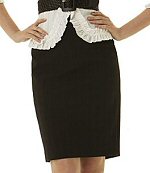 Antonio Melani "Laurette" Skirt
Available at Dillard's
Skirts and pants are both just fine
Any of the following can complement a dressed-up top. This spring and summer, try these flattering styles:
Pencil skirts:—Streamlined skirts are simple, elegant, and fashionable. They should fit smoothly over your curves and should hit the middle of the knee-cap or right below it.
Tailored slacks:—Go for cotton or silk pants, with legs well-fitted and not oversized.
Black or neutral colors:—Bold colored and patterned pants are out. Stick with a neutral color, such as cream, khaki, white, or black. All of these are very classy choices right now.