Warm-weather "Country Club Casual"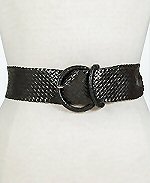 Charter Club Woven Belt with Covered Buckle
Available at Macy's
ACCESSORIES Add Elegance
Great accessories can always make a casual outfit look more elegant. Here are some of the hottest accessories, this season:
Belts:—Belts are spectacular and are focal points on their own. Oversized, beaded, or metallic belts are abundant in department stores and boutiques. Worn under or over a fitted jacket, try a belt in a contrasting color or texture. Over a blouse or elongated top, the belt can be worn more casually, dipping below the waist.
Jewelry:—The right jewelry will always help make an outfit fit the occasion. For the country club casual look, leave the diamonds at home and go for beautiful semi-precious stone necklaces or earrings.
As rule for all seasons, Kregsman stresses, black is always safe. And classic matching pants suits, in most colors, will carry the look through. As she emphasizes, avoid blue jeans (too casual) and super-dressy cocktail dresses that will leave you feeling over-dressed and awkward.
Whatever you wear, smile warmly and look confident. That's what people will notice most of all.
Note:To read the original, cool-weather feature, "What does Country Club Casual Mean?" click here.
You might also enjoy: