Asian-inspired recipes
CLASSIC FRIED RICE
Makes 8 servings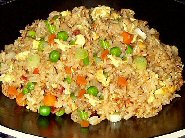 4-6 dried Chinese mushrooms
1 green pepper, cored, seeded, and cut into small cubes
1 red pepper, cored, seeded, and cut into small cubes
4 oz. frozen peas, thawed
2 eggs
2 scallions, finely chopped
2 Tbs. salt
4 Tbs. oil
6 cups cooked rice
1 Tbs. light soy sauce

Soak the dried mushrooms in warm water for 25-30 minutes, squeeze dry, and discard the hard stalks.
Cut mushrooms into small cubes.
In a mixing bowl, lightly beat the eggs with about half of the spring onions and a pinch of the salt.
Heat about 2 tablespoons of oil in a hot wok or saucepan. Add the beaten eggs. Scramble until set and remove.
Heat the remaining oil. When hot, add the rest of the spring onions followed by the vegetables. Stir-fry until each piece is covered with oil.
Add the cooked rice, salt and stir to separate each grain of rice.
Add the soy sauce, blend everything together well and serve.
Chinese New Year special cooking videos
Click below to continue our Chinese New Year special section, with videos showing easy Asian cooking techniques:
Chinese beef with peppers and black beans
You might also enjoy: