Top Kids' Birthday Party Questions Answered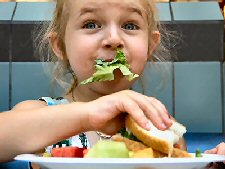 What should I serve?
The tiniest tots are easy to please: Having their moms or dads help them to a bit of cake and ice cream will probably make them very happy.
For young kids, small food portions work well. Think cut-up fruit, pieces of cheese, baby carrots, crackers, and miniature muffins.
Another idea is to make popular sandwiches rolled up and sliced to form pinwheels, or cut into shapes using cookie cutters.
For kids over age 7 or so, you can never go wrong with macaroni and cheese, baked ziti, or pizza. Add some salad or cherry or grape tomatoes and sliced cucumbers to give the party fare a bit more color.

If you're serving pizza, cut the pies into smaller-than-usual slices and let the kids keep coming back for more. Cutting small slices will dramatically reduce waste.
A birthday cake or cupcakes are essential. Decorating cupcakes has become a dual-purpose parent-pleasing activity: It keeps the kids busy and takes care of providing a dessert the kids will love.