Top Kids' Birthday Party Questions Answered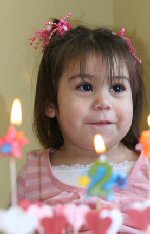 Kids' birthday parties today are a lot different today than they were when most moms were kids. In many communities, throwing kids' birthday parties has almost become a competitive sport.
Your kid's party should be about fun, not competition. And birthday parties should never put kids in the position of comparing levels of party extravagance.
The key to having a great birthday party? First, remember that it's about your kid—not anyone else's. Plan your party around your own child's interests, and what you're family is comfortable doing.
Start planning the party at least 4 to 6 weeks in advance so you have plenty of time to take care of everything—if that's what you want to do and are able to do. If you decide to hire a party entertainer or book a birthday party venue, make your calls about three months in advance, to be sure the date and time you want is available.
Here are some of the most common questions that moms ask about planning kids' birthday parties, and some common-sense answers.

How many kids should I invite?

If the party is for a child under age 5, and parents are invited to stay, the number of kids won't be a big factor. The parents will supervise their own children, so you'll be able to concentrate more on yours.
Some experts maintain that kids are old enough to be dropped off at parties once they're about 5 or 6 years old. By that time, most have been in playgroups, pre-schools, and possibly, kindergarten. That means they should have the social skills they need to play nicely with other kids and have a good time.
The general rule of thumb on how many kids to invite: your child's age plus one.