Steven Buckwald, Owner, Surroundings Flowers & Events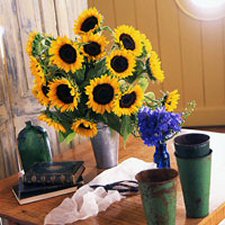 In season. "Always use seasonal flowers," says Buckwald, "because they will be less expensive." Buckwald says dahlias are in season right now and are very popular for special events.
Buy wholesale, if possible. "We are in the unique position of also being wholesale distributors. So what we've been able to do that's especially helpful in this economic time, is pass on savings of 25% to 40% to clients, which also means that we don't have to compromise our work.
Click here to visit Surroundings Flowers & Events.