Steven Buckwald, Owner, Surroundings Flowers & Events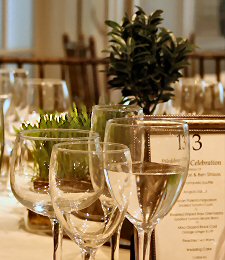 Organic vs. green. "There is a big difference between organic and green," explains Buckwald. "If you exclusively go organic then you are looking at a 25% to 30% percent additional cost. Sometimes, you also have more limited choices.
"But green is a different story," he says. "Recently we did a very interesting thing with low glass containers and different grasses. Also in the center of the table was a small bonsai. It was lovely and elegant and very reasonable—even less costly than a traditional centerpiece. Grasses and mosses are not expensive, but they can look extremely lush and rich."
Branching out. "What we're seeing in corporate functions is that companies are far more conscious about budgets than are those planning other types of events. Rather than suggesting huge arrangements for corporate events, we are doing a lot of things with branches and accenting them with flowers. It gives the illusion of a huge, full arrangement."