Make-ahead Irish Dinner Classics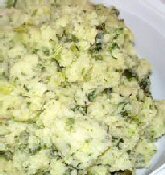 Colcannon (mashed potatoes with cabbage)
Makes 8 servings
2 1/2 lbs. medium-size potatoes, peeled and cut into quarters
1/2 cup milk, warmed
4 strips bacon
1/2 small head of cabbage, chopped
1 large or 2 small onions, minced
3 Tbs. butter
Salt and pepper to taste
Cook potatoes in salted boiling water until tender; drain potatoes, return to the pot, and mash them with warmed milk.
Cook the bacon in a large skillet; remove bacon when it is crisp and reserve drippings; crumble bacon and set aside.
Cook the cabbage and onion in bacon drippings, stirring until both are coated.
Add 1/2 cup water, cover pan and cook, stirring occasionally, until cabbage and onions are soft.
Drain cabbage and return to skillet; add butter and stir until butter is melted.
Combine cabbage, onions, and mashed potatoes. Add salt and pepper to taste.
Add bacon to potato mixture, or reserve crumbled bacon to sprinkle on top just before serving; serve warm.*
*Note: If you're preparing Colcannon in advance, place potato mixture in a greased, 3-quart baking dish and dot with butter; cover, and refrigerate. Bake, uncovered, at 350 degrees about 1 hour or until top is golden.
Irish Coffee
For each serving, mix 6 oz. strong, hot coffee with 1 ounce of Irish whiskey in a cup or Irish coffee glass mug.
Add 1 to 2 Tbs. of brown sugar, to taste; stir until sugar is dissolved.
Float whipped cream on top; sprinkle with chocolate shavings, cinnamon, or green sugar sprinkles, if desired.