Make-ahead Irish Dinner Classics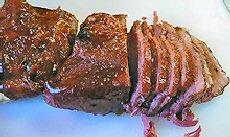 Corned beef with brown sugar
and mustard glaze
Makes 8 to 10 servings
3 - 4 lbs. corned beef brisket, rinsed thoroughly and trimmed.
1/2 cup light brown sugar, packed
1/2 cup water
1/2 cup brown mustard
Place corned beef in a large stockpot and cover with water. Add the seasoning packet that came with the corned beef or use 1 to 3 Tbs. of mixed pickling spice.
Bring to a boil; lower heat to simmer.
Cook corned beef for about 3 hours until very tender, skimming the fat as necessary. Add more water, if necessary, to keep meat covered. Keep meat in water while preparing glaze.
Preheat oven to 325 degrees.
In a saucepan, combine brown sugar and water. Bring to a boil and simmer over medium-high heat, about 5 minutes.
Stir in mustard; simmer for 2 to 3 more minutes.
Place the brisket on a rack in a roasting pan.
Coat meat with glaze.
Bake corned beef for 25 to 30 minutes, covering with additional glaze every 10 minutes.
Remove from oven and let rest at least 15 minutes.
Cut across the grain into thin slices.
Here's a great make-ahead tip: Cook the corned beef in advance, cool the meat, slice it into several large pieces (to help it cool quickly) and refrigerate, wrapped tightly.
To get thin, even slices and reduce shredding, slice the meat when cold, across the grain. Keep slices packed together and wrap tightly to store.
To reheat, place a moistened paper towel around all of the slices and place the corned beef in a roasting bag that has several holes poked in it. Microwave for a couple of minutes, turning the roasting bag once or twice during cooking, until the meat is hot.
This process is a lot easier than steaming, which many purists insist is the only way to reheat corned beef. The moist paper towel will keep the corned beef from drying out while it's re-heating in the microwave oven.
Irish Spiced Beef
Makes 8 to 10 servings
4 lbs. beef bottom round
3 tbsp. packed dark brown sugar
1 Tbs. ground cloves
1 Tbs. ground allspice
1 Tbs.. ground cinnamon
1 Tbs. freshly ground black pepper
1 1/2 tsp. ground mace
1 12-oz. bottle stout or dark beer
1 3/4 cups water or beef broth
Mix together brown sugar, cloves, allspice, cinnamon, and pepper in a bowl large enough to hold the roast.
Add meat and turn to coat, rubbing spices into the surface of the beef. Cover and refrigerate 12 hours, overnight, or if you'd prefer beef to be spicier, at least 2 days.*
Preheat oven to 350 degrees.
Remove roast and place in roasting pan or Dutch oven.
Add dark beer and water or broth. Cover and bake about 3 hours or until roast is fork-tender.
Remove roast from oven and let stand 10 minutes. Slice thinly across the grain.
*Note: While Irish spiced beef is traditionally served cold, this version is served hot. Another difference is that most recipes for Irish spiced beef call for the roast to be marinated in the spices (plus 1/4 to 1/2 cup of salt) for 7 days, during which the meat is turned and rubbed once or twice a day. After cooking, the meat is then tightly wrapped in plastic wrap and refrigerated until ready to serve, at which point it is sliced.