Denise Flachbart, La Petite Soiree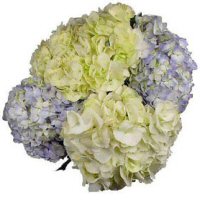 Flowers and color. The same type of flowers, like hydrangeas, arranged tightly in a vase makes a centerpiece that looks very elegant and classic, says Flachbart.
Also popular are small floral arrangements, which can make party-planning easier on the budget. "Smaller centerpieces also are being requested," she reports. The effect of small arrangements can be enormous, Flachbart notes, "as long as creativity is still present."
When it comes to getting the most for a flower budget, Flachbart suggests that keeping like colors together can create a big effect.
Shopping savvy. If you know what to look for you can certainly find less expensive décor and other items at places you might not necessarily think of, says Flachbart.
"Recently, I did an event where the bamboo centerpieces were from Chinatown and the tableware was from Ikea." Flachbart also suggests that clients "visit local farmer's markets and always be on the lookout for unusual, interesting pieces in your travels and everyday life" that can be used at your parties.