Asian-inspired recipes
SWEET AND SOUR CHICKEN
Makes 8 servings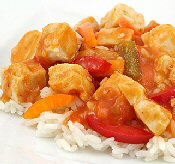 2 pounds skinless, boneless chicken breast, cubed
1/4 cup vegetable oil
1 cup sliced green bell pepper
1 cup sliced red bell pepper
2 cups carrot strips
2 cloves garlic, minced
2 tablespoons cornstarch
1/2 cup soy sauce
2 8-oz. cans pineapple chunks, juice reserved
2 Tbs. vinegar
2 Tbs. brown sugar
1 tsp. ground ginger

In a large skillet, brown chicken in oil over medium high heat.
Add green and red bell peppers, carrot, and garlic. Stir-fry for 1 to 2 minutes.
In a small bowl, combine cornstarch and soy sauce and mix together.
Pour soy sauce mixture, pineapple, vinegar, sugar, and ginger into the skillet.
Stir together and bring to a full boil.
Serve over white or fried rice.