Asian-inspired recipes
Beef and Pepper Stir-Fry
Makes 8 servings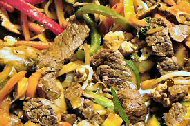 Sauce ingredients:
1/2 cup soy sauce
1 teaspoon toasted sesame oil (also known as dark sesame oil)
2 1/2 Tbs. sugar

Stir-fry ingredients:
4 Tbs. vegetable oil
16 scallions, trimmed and cut into 1-inch pieces (reserve 1 heaping tablespoon thinly
sliced dark green parts for garnish)
3 Tbs. thinly sliced garlic (about 3 cloves)
2 Tbs. minced ginger (about a 1-inch piece)
2 - 4 fresh chilies (jalapenos or Thai chilies), to taste, seeded and minced (optional)
1 green bell pepper, thinly sliced
1 red bell pepper, thinly sliced
2 lbs. beef top round or London broil, sliced very thin (see note, below)

Combine sauce ingredients in a small bowl and stir well. Set aside.
Prepare all stir-fry ingredients before heating oil. (Note: To cut beef into very thin slices, place beef in freezer for 20 to 25 before slicing.)
Heat a large skillet or wok over high heat for 2 minutes. Add vegetable oil and heat for 1 minute.
Add scallions, garlic, ginger and (if using) chilies to pan and cook, stirring often for 1 minute.
Add red pepper and cook, stirring often for 1 minute.
Add beef and cook, stirring occasionally, for 1 minute. Pour sauce over stir-fry and mix well.
Cook for 1 minute or until beef is just slightly pink in the middle. Sprinkle with reserved dark green scallion slices to serve.