Mediterranean yellow rice
Serves 12 people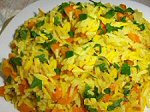 Ingredients
4 Tbs. extra virgin olive oil
2 cups onion, diced
1 red bell pepper, diced
4 garlic cloves, minced
3 cups long grain white rice
2 tsp. turmeric
2 tsp. cumin
4 cups chicken broth
2 cups water
1 tsp. salt
½ tsp. black pepper
½ cup chopped parsley
Instructions
Heat oil in a large nonstick skillet over medium-high heat. Add onion, red pepper and garlic; cook about 2 minutes.
Stir in rice, turmeric and cumin; cook 1 minute.
Add broth, water, salt and pepper and bring to a boil.
Reduce heat to medium-low, cover and simmer until liquid is completely absorbed, about 17 to 20 minutes.
Remove from heat; stir in parsley immediately before serving.
More delicious food for parties