Berry good French toast
Serves 8 people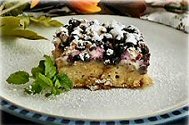 Ingredients
14 oz. milk
1/4 cup sugar
1 tsp. vanilla
1/4 tsp. salt
2 tsp. cinnamon
1 tsp. nutmeg
7 large eggs
16 oz. loaf French bread, cut into one-inch cubes
3 oz. cream cheese, cut into 1/2" cubes
1 cup fresh or frozen blueberries
1/2 cup chopped pecans
Instructions
Grease a 9 by 13-inch baking dish.
Place milk, sugar, vanilla, salt, cinnamon, nutmeg, and eggs in a large bowl and beat with a handmixer until smooth.
Add bread cubes and stir with a spoon until coated.
Pour bread mixture into pan.
Top evenly with cream cheese, blueberries, and pecans.
Cover and refrigerate up to 24 hours.
Heat oven to 400 degrees.
Bake, uncovered, 20 -25 minutes or until golden brown.
Cut into squares for serving.
Dust with powdered sugar and serve with maple syrup.
Source: Recipe adapted from and photo by Bottger Mansion of Old Town (Albuquerque, New Mexico)
More delicious food for parties