Denise Flachbart, La Petite Soiree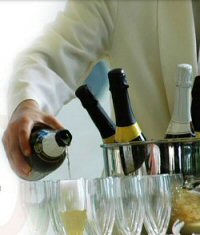 Image courtesy of La Petite Soiree
Try to find beverage sponsors. If at all possible, get a liquor or wine distributorship to sponsor the bar area of your event, she suggests. "Many of these companies are new and are looking for ways to get exposure."
Flachbart says it's a good idea to contact companies that complement the type of event you're holding, or the theme of your party. "For a younger "hipster" type crowd go with something fun, colorful and exciting."
Aside from the obvious cut in cost, "you can incorporate a lovely color" into the event décor, she notes. She gives a couple of examples:
Pama—a liqueur blend of premium vodka, pomegranate juice and imported tequila, has a vivid red color scheme. "Pomegranate martinis and mimosas are great for Sunday brunch events," she says.
Hypnotiq—a liqueur blend of premium vodka, natural fruit juices and cognac that has a signature frosted blue hue, is another favorite, she says.
Along the same lines, you might be able to find a nice up-and-coming wine or champagne," like Little Black Dress wine, for an art gallery opening, for fashion events or after-theatre receptions," says Flachbart.
If finding a sponsor seems like it might work for your fundraiser or event, get on it right away. "The turnaround time for approval is about a month," she says, "so be sure to start your search as early as possible."
An extra bonus: "Sometimes, the liquor companies supply bartenders as well," says Flachbart. "The bartenders know all about the product they are pouring and can answer any questions your guests may have and can also recommend ways to serve it.
"Of course, it isn't always possible to have a sponsor," notes Flachbart. "But when it works it can save a bundle of money."