Avoid the Mother-Daughter Bridal Battlefield
The bride's gown:—Despite what some young women say, their moms' input matters a great deal to them when they're choosing a wedding gown, Francine contends. Still, tastes are often at odds. "The first dress that the bride falls in love with is often one that her mother sees as unflattering, unappealing, and too expensive," she says.
Her advice: Don't dig your heels in. "If you go too strongly against your daughter's initial choice, it may encourage her to choose the controversial dress." Instead, she counsels, "Suggest sweetly, 'Let's keep looking. I didn't realize that there were so many beautiful dresses. I want to see you in different styles.'"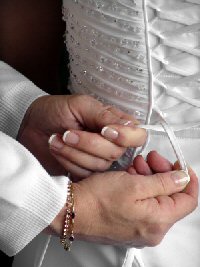 Mom's dress:—Does the bride-to-be have color preferences? Most brides want their mom and future-mom-in-law to buy dresses that coordinate with those of the bridal party. Ask, and if possible, abide by her wishes.
Here's a helpful time-saver: Look for a dress on your own, but make no final decisions without your daughter's approval. Choose several dresses, and then set a time that she can see all of them, Francine suggests.
More Mom tips
Over the years, many experts also have weighed in on the "do's and don'ts" of being the mother of the bride. Here are some of the best:
The groom's family:—If you haven't already met the groom's parents, reach out to them and make arrangements to get together. This is especially important if both families will be contributing to the cost of the wedding. You'll need to talk about who's paying for what. Even if finances aren't an issue, your daughter and your future son-in-law will appreciate your efforts to build a bridge.
The guest list:—Handle your list of invitees. Compile the list of family members and friends based on space and budget limitations; handle the RSVPs and follow-up with those who don't respond according to schedule.
Guest accommodations:—Reserve a block of rooms at a nearby hotel for out-of-town guests on your side of the family. Ask the groom's family if they would like for you to reserve rooms for their guests, as well.
Gifts for the new couple:—Help spread the word to family and friends about where the bride and groom have registered; be sure to let your daughter's future in-laws know, too, in case they haven't been told.
Open communications:—Coordinate with the maid of honor, especially as the bridal shower, bachelorette party, and wedding approach. You don't want to interfere with each other's responsibilities. Speak with her frequently to compare notes and make sure everything is running smoothly—your daughter will appreciate it.
You might also enjoy: