First Birthday Party Barnyard Bash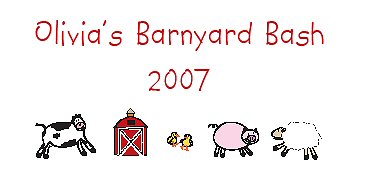 Invitations: Sandra decided to have custom invitations created for this milestone celebration. She turned to Manhattan-based Robyn Miller Design. "The barnyard theme that the designer created for the invitations also served as the template for 6" x 3" iron-ons that I put on white T-shirts for the kids to take home as party favors," she says.
Party plans: "We called the party for 1 p.m. to 6 p.m. The petting zoo staff and animals arrived at about 2 p.m.," she recalls; it took them only about 10 minutes to set up." As for the length of the entertainment, Sandra says, "The normal petting zoo lasts about an hour; we thought we'd make it a half hour longer."
Décor: "I wanted to have everything in a kind of down-home country theme. So I rented tables and white chairs, as well as red and white cloth checkered tablecloths. I bought farm animal-decorated paper plates for the kids and solid red for the adults. I also decorated the backyard with mylar balloons with animal prints, plus bales of hay I bought from the petting zoo company."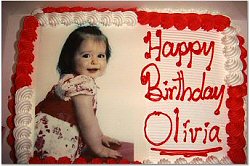 Food: Sandra laughs when asked about the food. "My mom did the catering," she says. Grilled steaks, hamburgers, and ribs were the center of the traditional picnic menu. "For dessert, I ordered an ice cream cake with Olivia's photo on it, and served strawberry shortcake, as well."
Keys to the party's success: Sandra, a busy mom who also works as a psychologist, says she simply didn't have time to prepare for Olivia's party and do the cooking for 75 people. So she turned to professional invitation designers and a full-time petting zoo company, and rented much of what she needed. "I also really appreciated my mom's offer to do most of the cooking," she adds.
The centerpiece of the party was, of course, the petting zoo. The "Barnyard Bash" featured ducks, rabbits, a goat, sheep, and a pot-bellied pig. The small animals were confined to a spacious fenced-in area on the grass. The larger animals, wearing colorful bandanas around their necks, were tethered by leashes attached to stakes in the grass. The kids loved the animals, and the activity engaged their moms and dads, as well.
Click here for details and tips on how to plan a Petting Zoo Party for a birthday or as part of a school or community event where you live.
You may also enjoy:
Comments
To comment, please Login or Join