First Birthday Party Barnyard Bash
By Carole Jace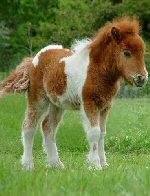 Kids love adorable ponies
When Sandra Ritossa began thinking about how to celebrate her daughter, Olivia's, first birthday, she knew there would be lots of guests on the invitation list—75, to be exact. Of them, 20 would be kids between the ages of 6 months and 6 years.
Sandra decided that the perfect entertainment would be a petting zoo, set up in their backyard. The little ones would enjoy seeing and touching the gentle animals, she thought. The rest of the party could easily reflect the adorable, outdoor theme.
Thinking back on the late-Spring party, Sandra is still thrilled. "It's definitely the best party I ever planned," she says.
Here, Sandra offers the party-planning ideas and strategies that made her daughter's first birthday party one that totally delighted Olivia and the other tots, and wowed the adults, as well.