Favorite Kids' Halloween Costumes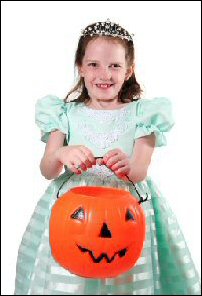 While grown-ups attending Halloween parties lean towards movie action and spooky costumes—witch, vampire, ghost—for their Halloween dress-up fun, kids look to pop culture for their inspiration. TV, movie, and cartoon/comic book characters are popular among kids.
Not surprisingly, the desire to be a princess for Halloween is too strong for many little girls to resist. Almost 12% of girls chose to dress as princesses a couple of years ago, and another 3% wanted to look like the Disney princess character.
Here, according to a survey by the National Retail Foundation and consumer marketing firm BIGresearch are the costumes that kids planned to wear recently.
Princess (generic)
Pirate
Witch
Spider-Man
Superman
Princess (Disney)
Power Ranger
Pumpkin/Jack o/Lantern
Cat
Vampire (generic)
Angel
Fairy
Ninja
SpongeBob SquarePants
Batman
Cheerleader
Football Player
Tinker Bell
Monster (generic)
Star Wars character

Here's a Halloween treat for you!

Enter our "Cutest Trick-or-Treater" Halloween Costume contest. We'd love to see you win the $250 prize.

Take lots of photos of your cute kids in their adorable costumes and be sure to enter our contest!

Comments

To comment, please Login or Join




You might also enjoy: