Halloween for adults: Ideas for costumes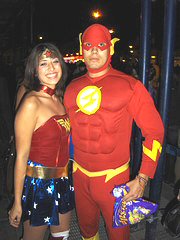 Halloween is bigger than ever, especially among adults. A couple of years ago, according to the National Retail Federation, almost 64% of consumers said they were going to celebrate Halloween. That's up from 53% the year before.
Adults are enjoying dressing up in costumes, and taking advantage of a great reason for a party. Even men are becoming more inclined to get in on the fun of a temporary identify change, says Jim Moore of Costume Super Center
.
Here, according to Moore, is a peek at what are likely to be some of the most sought-after costumes for grown-ups.
Most Popular Themes
Superheroes: Superheroes are big. Really big! The most popular among adults, so far: Wonder Woman and Batman.
Pirates: Probably thanks to Johnny Depp, the pirate theme remains popular. (Pirates are also among the top kids' costume choices, and pirate parties are also among the most popular kids' birthday party themes).
Humor: Getting laughs is the goal for many men who dress up for Halloween, says Moore. Guys tend to purchase costumes
in the "humorous" department. Right now, the Gecko is a front runner followed closely the Burger King character, and the battered-but-still-on-top Rocky.
Couples costume ideas: Couples costumes, especially those showing famous couples, should be more popular than ever, predicts Costume Super Center
. Some early customer requests are costumes reflecting such well-known couples as the Flintstones' Fred and Wilma, and Pebbles and Bam-Bam. Daphne and Fred from Scooby-Doo! are also expected to be big sellers.
Great go-along items
In addition to costumes and the requisite jack-o-lanterns, equipment and accessories will help make any Halloween party more atmospheric. Here are some items that likely will be in great demand again, this year:
You might also enjoy:
Photo: "Wonder Woman and the Flash" posted by Joe Shlabotnick on flickr