Take wonderful First Birthday baby photos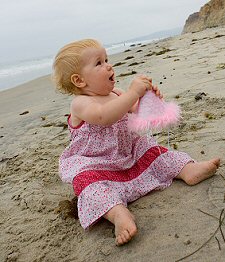 More spectacular baby photo ideas:
Don't just wait for a smile: Capture the abundant emotions of the baby—happy and sad, silly, mischievous, or surprised.
Props are OK: Even ordinary props can become very funny with a baby. Like a baby with big adult shoes, big sunglasses, or a funny shirt.
Vary locations and angles: Take pictures of your baby having fun in different settings, or sleeping in strange positions.
Show how little he or she really is: Take photos that emphasize Baby's proportions—e.g., tiny feet or fingers. Make your photo striking by shooting Baby's hand holding Dad's, Grandma's, or Grandpa's hand.
Be sure to get the traditional images, too: First birthday cake on your little one's face? Grab the camera, of course! There's never been a bad photo of a baby enjoying his or her first birthday cake!
To see the entire baby photo guide by Digital Photography Tutorial, click here.
To help you plan Baby's first birthday party: Check out our great First Birthday party planning ideas.