Spicy lime steak with spinach
Serves 8 people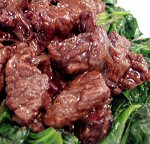 Ingredients
4 limes, juiced
4 tsp. ground cumin
1 tsp. paprika
1/2 tsp. cayenne pepper
2 tsp. salt
3 cloves garlic, crushed
4 tsp. olive oil
1 1/2 lbs. already-grilled steak
16 cups packaged pre-washed baby spinach
8 Tbs. regular or sugar-free balsamic dressing, or to taste
12 cherry tomatoes, halved
Fresh ground pepper, to taste
Instructions
In a medium bowl, whisk lime juice, cumin, paprika, cayenne pepper, salt, garlic, and olive oil.
Slice the already-grilled steak, across the grain, into 1/2-inch strips; add to bowl containing marinade, and toss to coat. Refrigerate for 1 hour.
Toss the spinach with balsamic dressing to taste. Serve the marinated steak strips over spinach, garnished with cherry tomatoes.
More delicious food for parties