Praline peach brownie sundae
Serves 6 people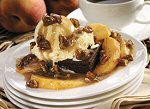 Ingredients
1/2 cup firmly packed brown sugar
1/2 cup whipping (heavy) cream
2 Tbs. margarine or butter
1/4 tsp. ground cinnamon
1 tsp. vanilla
1/2 cup pecan pieces
2 peaches, peeled, sliced
6 purchased frosted brownies
1 1/2 pints (3 cups) ice cream
Instructions
In medium saucepan, heat brown sugar, whipping cream, margarine and cinnamon over low heat, stirring constantly, until sugar is dissolved and margarine is melted.
Heat to boiling over medium heat, stirring constantly. Boil 5 minutes, stirring constantly. Remove from heat. Stir in vanilla, pecans and peaches. Cool 10 minutes.
Place brownies in individual dessert bowls or plates. Top each with 1/2 cup ice cream and 1/4 cup sauce.
Source: Recipe adapted from and photo by Pillsbury
More delicious food for parties