Herbed turkey strudel rolls
Serves 3 dozen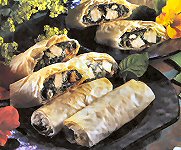 Ingredients
1/4 cup onion, chopped
2 cloves garlic, minced
1/4 cup red pepper, diced
2 Tbs. vegetable oil
1 cup ricotta cheese
1 1/4 cup cooked turkey, diced
1 1/4 cup frozen spinach, thawed and squeezed dry
1 egg
1 tsp. salt
1/2 tsp. pepper
1/2 tsp. dried marjoram
1/4 tsp. dried rosemary
1 lb. frozen phyllo dough, thawed
4 oz. melted butter or butter-flavoured cooking spray
Instructions
Saute onion, garlic, and pepper in hot oil until softened.
Stir in cheese, turkey, spinach, egg, salt, pepper, marjoram, thyme and rosemary until well mixed
Remove 2 sheets of phyllo, keeping remainder covered with a damp cloth, and lightly brush one sheet with butter or spray.
Top with a second sheet, cut lengthwise into 4 even strips. Place 1 Tbs. filling about 1 inch from bottom of strip. Fold bottom edge over filling, then fold long edges in to enclose filling. Brush or spray phyllo and roll up to the end. Repeat until filling is all used.
Place seam-side down on lightly greased baking sheet. Bake at 375 degrees F for 10 to 15 minutes or until golden brown.
Serve warm or freeze and re-heat to crisp.
*Note: To make larger rolls, cut phyllo into 2 strips and use 2 tbsp. filling. Cut in half to serve or don't cut the phyllo and use 1/4 cup filling. Cool to lukewarm; cut into thick slices to serve.
More delicious food for parties