Greek salad with grilled chicken or shrimp
Serves 8 people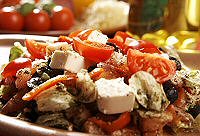 Ingredients
1 lb. previously grilled chicken, diced, or grilled shrimp
3 medium-sized ripe tomatoes, seeded and cut into chunks
1/2 red onion, thinly sliced
1 cucumber, peeled, seeded, and diced
1/2 red pepper, seeded and diced
1/2 green pepper, seeded and diced
1 cup pitted Kalamata olives
1/2 cup chopped fresh parsley
1/2 lb. fresh, imported Greek feta cheese
1/2 cup extra-virgin olive oil
1/4 cup red wine vinegar
Juice of one lemon
1 tsp. dried oregano
Coarse salt and freshly ground black pepper
Instructions
In a large bowl, combine grilled chicken or shrimp, tomatoes, onion, cucumber, red and green pepper, olives, and parsley. Place feta cheese on top of the vegetables.
In a small bowl, whisk together olive oil, vinegar, lemon juice, and oregano. Pour dressing over cheese and vegetables. Cover and refrigerate until about 30 minutes before serving.
Serve marinated chicken or shrimp and vegetables, plus feta cheese on a bed of mixed greens or simply place on a serving platter. Immediately before serving, dice or gently break up feta cheese using two forks; spread cheese over top of salad. Serve with toasted pita wedges.
More delicious food for parties