Festive fall soup
Serves 12 servings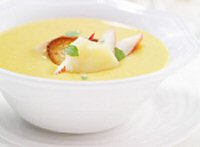 Ingredients
4 Tbs. butter
4 cups peeled and diced winter squash (butternut squash, acorn squash or pumpkin)
2 cups peeled and diced potatoes
2 onions, chopped
2 pears, peeled and quartered
6 cups sodium-reduced chicken stock
2 cups milk
1/2 tsp. ground nutmeg
1/4 tsp. cayenne pepper
Salt and freshly ground pepper
1 cup shredded Gouda cheese
For garnish
2 bags croutons
2 pears, finely sliced
12 slices Gouda cheese, cut into triangles
Instructions
Melt butter over medium-high heat in saucepan; brown squash, potatoes, onion and pears.
Add stock and milk. Stir in nutmeg and cayenne pepper. Season to taste with salt and ground black pepper.
Bring to boil, then simmer 20 minutes or until vegetables are tender.
Puree in batches in a blender. Return to pot.
Stir in Gouda cheese. Simmer until it melts.
Top soup with croutons, pear slices, and Gouda triangles; serve.
Source: Recipe adapted from and photo by the Dairy Farmers of Canada
More delicious food for parties