Apple toddy
Serves 8 people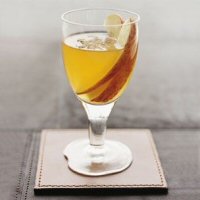 Ingredients
2 cups Calvados, Applejack, or other type of apple brandy
2 cups apple syrup*
2 cups hot water
30 thin apple slices
1/3 cup nutmeg
Instructions
In an 8-oz. glass, combine 1/4 cup brandy and 1/4 cup apple syrup. Top with the 1/4 cup hot water and stir.
Add 3 or 4 apple slices and 2 teaspoons nutmeg to taste over the top. Serve immediately.
*Note: Here's some guidance from Williams-Sonoma about apple syrup. "When buying apple syrup, look for the Austrian brand DArbo. This company produces some of the best, most intense fruit syrups on the market."
Source: Recipe adapted from Williams-Sonoma TASTE Magazine, "Winter Warmers," by Andy Harris (Holiday 2001).
More delicious food for parties