Halloween Bash 2007: "Keeping Our Fundraiser Fresh"
If you're a member of a committee that runs an annual fundraiser, you know one of the key challenges you face, each year: Keeping the event fresh. How do you keep people eager to come and willing to contribute to a cause that's close to your heart?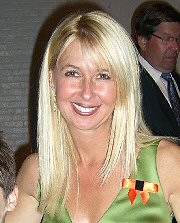 Ruth Geismar, shown during the 2006 Halloween Bash.
Last year, Celebrate with Style looked at the 6th Annual Halloween Bash, a fundraiser held each year to benefit the National Foundation for Ectodermal Dysplasias (NFED). The event so far has raised almost $2 million for the NFED.
Ruth Geismar, her husband, Keith, and Keith's parents, Alice and Bruce Geismar, started the fundraising event and as of this writing, are working on the 7th Halloween Bash, to be held on October 25, 2007.
Here, Ruth shares the concerns that she addresses each year. She also talks about what her family and the event committee are doing to try to keep the Halloween Bash fresh.
New venue—"I think it's really important to change the venue every few years," she says. "People like to go to new places. Every year we hold the event in Manhattan, since most attendees work there. We know most people are coming after a long day at the office. So we have to keep the experience enjoyable, so they'll want to come.
"This year, we looked for a different layout and 'feel' of the space we were going to rent," she says. "Some venues offer only raw spaces. Because they're bare, you have to fill them with a lot of decorations. With a more elaborate-looking space, you don't need that much. We decided to hold the 2007 event at Capitale, which is a beautiful and very ornate former bank down on the Bowery. The layout is different, so we'll be able to set up everything in a new way. We'll also have much less need for decoration."
Freeing up volunteers' time—Another change in plans reflects a very real issue for all organizations that have run successful fundraisers for a number of years.
"This year, instead of renting and buying everything from lots of outside companies, and having a dozen different trucks delivering stuff, we're using Capitale's tables, chairs, and linens. We're also using their liquor and wait staff," Ruth explains.
"That means that our costs will go up somewhat," she concedes. However, she adds, there's another consideration. "When we started this event, we had very few resources. And over the years, everyone has been extremely generous.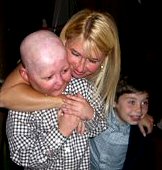 Ruth holding sons Ryan, left, and Jack during the event, last year.
"But after a while, you start to worry that you're taking advantage of people. You worry about asking the same people to absorb specific costs every year, or to go out and line up vendors to provide goods and services at virtually no profit. So we decided that we needed to take some of the pressure off the people who've worked so hard to support this event for so many years."
Silent auction items—In any organization, it's easier for committee members to ask their local merchants to donate items for a silent auction and raffles or door prizes than it is asking them to find people who will provide all the liquor, she continues.
And getting good silent auction donations is essential every year.
"Variety is really the key to a successful silent auction," Ruth maintains. "You always want to have jewelry, handbags, and restaurant dinners that people will want to bid on. But you also need kids' toys and games, sports tickets, and half-day spa visits. You want everyone to find something they're interested in."
Autographed sports memorabilia, sold on consignment, have been among the many items auctioned at the Halloween Bash for the past several years. They will be, again. "They're really popular," she points out.
Décor—Since the fundraiser's theme is Halloween, pumpkins, scarecrows, witches, black crows, and cobwebs always play a major role in the design of the invitation and room décor. But each year, there's a fresh take on the holiday theme. "This year, the centerpieces will be tall glass vases, about 2 to 3 feet high, filled with candy. We'll also have very small pumpkins and lots of twinkly votive candles on the tables, to create a beautiful atmosphere," she says.
Presentation—In 2007, technology will help update an essential part of every successful fundraiser: "Here's how your contributions help." At past Halloween Bashes and in each venue, the walls near the entryway featured large, blown-up photos of adorable children affected by Ectodermal Dysplasias.
This year, the NFED story will be told with both images and sound. Thanks to the efforts of a talented British producer, who also is the mother of an ED-affected child, Bash attendees will watch a short video. The video introduces NFED founder and executive director, Mary Kaye Richter. In a series of brief—and warm—interviews, the video features parents of other ED-affected children, as well. They talk about how the NFED has been there for them when they have needed advice, help, and hope. Click here to watch the video.
As the 7th Annual Halloween Bash approaches, much remains to be done. But by making some changes, this year, Ruth and the rest of her family look forward to hosting an event that once again will be fresh, financially successful—and fun to attend.
About Ectodermal Dysplasias and the NFED: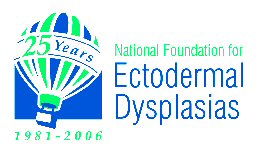 Ectodermal Dysplasias are a group of roughly 150 rare, hereditary conditions that affect the ectoderm, or outer layer of tissue in a developing baby.
ED syndromes can prevent or inhibit development or function of teeth, hair, nails, and sweat glands. They also can affect the skin, lens or retina of the eye, the development of fingers and toes, parts of the inner ear, and nerves.
The National Foundation for Ectodermal Dysplasias (NFED) is the only organization in the U.S. that offers information and support to more than 3,000 ED-affected families in all 50 states and in more than 50 countries. Money raised by the Halloween Bash helps the NFED to:
Provide information on dental implants, genetic testing, and other topics of importance to families affected by ED.
Offer financial assistance for medical and dental care, plus help with purchasing hearing aids, dentures, wigs, air conditioners, and cooling vests for use in hot weather.
Sponsor family conferences to promote education, networking opportunities for ED-affected families, and the chance for researchers to gather key data on the health and development of ED-affected kids.
Provide grants to support research about the causes and treatment of ED.
Click here to watch a short video about the NFED and learn how it has offered ED-affected families help and hope for more than 25 years.
For more information: Visit www.nfed.org.