Working with a DJ: Listen to a pro's party tips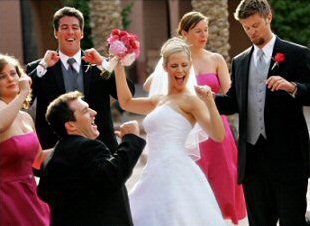 4. Make sure your DJ has a reception planning form. A professional wedding DJ should have a comprehensive reception planning form with suggested music for the grand entrance, toasts, special dances, or announcements. If the DJ you're considering doesn't have one [for any type of party], find a DJ who does. Click here to see Billy's reception planning form.
5. Take the time to plan the Grand Entrance. The Grand Entrance sets the tone and establishes the energy for the entire reception. Work closely with your DJ and facility event director to stage a Grand Entrance that reflects your style and personality, or that of the guest(s) of honor.
Decide who will participate, where they will assemble and in what order, where they will go after being introduced. Be sure to clarify the pronunciation of names, determine appropriate introductions for blended families and, of course, select the perfect music.
Image source: Marriot Photography
More expert advice and party planning tips