Working with a DJ: Listen to a pro's party tips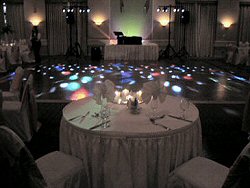 2. Photography should be unobtrusive. If you'll be using a professional photographer or videographer, be sure s/he has the professional skill to capture special moments efficiently and unobtrusively, without taking time from the party for extensive posed shots. Choose a video company willing to use comfortable lighting unless you want your guests to be squinting and covering their eyes on the dance floor and throughout the reception.
3. The DJ should be next to the dance floor. Avoid seating guests between your DJ and the dance floor. Having the DJ next to the dance floor maximizes his or her ability to control the sound and interact with dancers. (See recommended room layouts at the end of this feature.)
Also, be wary of venues in which you'd be sharing an area with restaurant diners or other parties. Such arrangements almost always result in requests to lower the volume, which will diminish the energy of your reception.
Image source: van Rensburg Photos; Phoenix DJ Billy James
More expert advice and party planning tips