Working with a DJ: Listen to a pro's party tips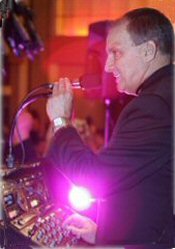 If you want a fun-filled, smooth-flowing event, and you've decided to hire a DJ, listen to his or her advice on how best to build energy that increases during your party.
Billy James, an experienced, professional DJ and owner of Phoenix DJ Billy James (shown at left) offers great advice.
Great ideas for all events
We've adapted his excellent pointers on planning a fun wedding to help you maximize the fun at any type of special event celebration—special birthday, wedding anniversary, class reunion, etc.
1. Dim the lights when it's time for dancing. Soft lighting during dinner creates a more comfortable atmosphere. Dimming the lights after dinner will motivate your guests to dance. Determine the desired lighting levels for dinner and dancing when you meet with your reception facility's coordinator. Have your lighting preferences included in your contract with the facility, if possible.
Image source: van Rensburg Photos; Phoenix DJ Billy James
More expert advice and party planning tips