Wording for invitations: A how-to guide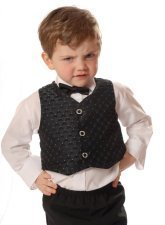 Are Kids Included?
Another potentially sticky situation involves who's invited and who's not. Although problems can surround inviting guests of any age, the most common situations involve children.
At some affairs, especially those held during the daytime, the presence of children can be welcome and positively delightful. As the afternoon turns into evening or even late night, however, young kids who have been up and running around all day can become tired and cranky. The obvious result: hassles for their parents and headaches for almost everyone else.
Some hosts believe that having all little ones at family celebrations is a given, regardless of the hour or circumstances. Others would rather have their friends and relatives leave young children at home. The choice is totally personal; informing others about that choice can be problematic.
The names on the envelope
In general, the experts agree, the names written on the envelope should be considered the indicator of who is and who isn't invited. Problems arise, however, when parents don't get it. Or don't want to.
If an adults-only wedding reception is planned, for example, Stovall suggests adding a line to the bottom of the response card (again, not on the invitation) that reads "No Children, Please," in small type. "Don't make it wordy because that brings attention to the situation," she says. Other experts agree that it's OK to write "Adults Only" on the response card.
A compromise solution is to invite children, but on the response card, indicate that kids will be entertained in another room. A way to express it: "During the reception, a sitter, plus children's activities and entertainment will be provided for children up to age [whatever you choose]."
For ideas on how to set up a separate area for children that should keep everyone happy, click here to read Create an Easy-on-the-Parents Kids' Zone.
Image credit: Lunalux
More pretty ideas for gorgeous parties