Wording for invitations: A how-to guide
By Debbe Geiger
While invitations are designed to simply convey the event, time, and place, sometimes, choosing the right words for invitations can be anything but simple.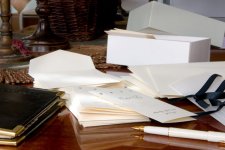 Here, from experts, are ways to handle three common invitation wording challenges - situations in which you:
Are dealing with strained family relationships;
Want to indicate "No gifts;" and
Would prefer that friends and family members left young kids at home.
Baylor Stovall, owner of the Stovall Collection, a chain of high-end stationery and gift stores in Mississippi and Tennessee, counsels individuals on how to properly craft the wording of wedding invitations.
Stovall herself had to squirm through one of the top invitation sticky situations when she got married 10 years ago. "I lived in a small town and my parents were going through a divorce," she says.
Stovall points out that if she had worded the invitation to suggest that her mother and father were giving her away, "people would have assumed they were still together. But if I had put my mother's name on the top line and my father's name on the next line, as etiquette suggests, it would have read like a divorce announcement."
Ultimately, Stovall chose to delete the parents' line altogether. She decided to display the family's crest, which she felt honored everyone. The invitation read:
The pleasure of your company is requested
At the marriage of
Baylor Irene Ledbetter to William Howard Stovall, IV
Most experts concur that in tricky situations, the best invitation wording reflects courtesy and consideration. They also agree that established rules of etiquette can be helpful in choosing the best words for awkward circumstances.
More pretty ideas for gorgeous parties