Wish trees for milestone events or fundraisers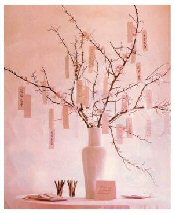 Here is a versatile idea that we saw used effectively at the Dining by Design show in New York City, sponsored by DIFFA (Design Industry Foundation Fighting AIDS). A wish tree is a memorable addition to any milestone event, such as a graduation party, engagement party, bridal shower, wedding, baby shower, anniversary or birthday party.
Decoration and keepsake: A wish tree gives guests the opportunity to send warm wishes or advice for the guest of honor. It also is a nice keepsake for the guest of honor to take to college or use as a decoration in a room in their home.
Best of all, it's easy to set up. Simply decide on the size of the tree you wish to create. For a small tree, for example, you can use store-bought ornament holders.
Another option is a metal tree used for 3D scrapbooking. Set the tree out on a table with jars or bowls. Fill one jar with pens or markers and the other with blank cards with ribbons attached, ready for hanging (as shown at the right).
Create your own: If you want to create your own Wish Tree, here's a great tutorial from bloomsandbranches. The tutorial gives step-by-step instructions on how to turn beautiful manzanita branches into a lovely and reusable tree for holding wishes or holiday ornaments.
Photo source, top: Bridal Buds
You may also enjoy:
More pretty ideas for gorgeous parties