What Party Guests Really Love: Insights from a Pro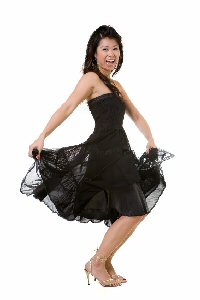 Entertainment Advice
Great music is the key to fun. At a recent country club wedding that she worked at, there was a 10-piece band that included four singers. "They were sensational and kept the party rocking all night long. It was like going to a private concert," she recalls. "The people absolutely loved it. Everybody was up and dancing."
Bump up the creativity. Bar and Bat Mitzvah receptions often revolve around a central theme that reflects the young person's interests. One party that stands out clearly in Beth's mind was a Bat Mitzvah built around an "Alice in Wonderland" fairytale theme. The Bat Mitzvah girl wore an Alice in Wonderland-style dress. Life-sized cardboard cutouts of the birthday girl were prominently displayed in the catering hall, along with cardboard cutouts of other characters from the book. The congratulatory birthday cake was shaped like a teapot.
As far as adult themes are concerned, the ones Beth sees most often: Luaus and disco parties. There's still something compelling about grass skirts and disco dancing.
Keep the kids happy. A clown or a magician may be fine at smaller parties, but not at large-scale events. These days, arcade games, temporary tattoo artists, professional dancers, or a staff of entertainers are typically on hand to keep kids moving and grooving.
Plan something memorable. For adults, a personal presentation makes everyone feel good. At one party, an ensemble used Billy Joel's "Just the Way You Are" to craft a parody that roasted the guest of honor, joking about his favorite activities and what he loves. "It was really cute and the guests loved it," she recalls.
A Final Tip
Don't forget the favors. Kids aren't the only ones who love getting gifts. Beth says she's seen partygoers leave bearing necklaces and bracelets engraved with their names, crafted onsite by a jeweler, bags of candy, muffins or cookies, air-brushed T-shirts and CDs featuring the host's favorite music selection. "Today, at fancy affairs, it's almost expected that guests will leave with a gift," she says.
You might also enjoy:
More delicious food for parties