What Party Guests Really Love: Insights from a Pro
Buffet vs. sit down. Casual affairs are made for buffets, and for some guests, the lighter the food, the better. "A lot of people don't want to eat heavy pasta at night. If we're doing an adult birthday party, we may serve two kinds of salad-perhaps barley with cranberries, or cold orzo with feta cheese and olives-plus steak and a green salad."
On the other hand, she notes, sit-down dinners work better when the band or other entertainers need to take breaks, or when a wedding or other type of reception calls for traditional rituals (or formal presentations) that need to be done in sequence and in a timely fashion.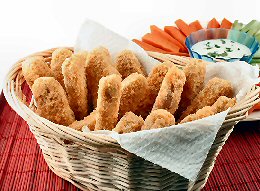 Give the kids what they want. While many kids have become accustomed to sophisticated cuisine, "most kids won't go near the adult food," Beth contends. "Mozzarella sticks, pizza bagels, chicken fingers, and quesadillas are still preferred by the majority of younger guests," she says.
Adults love kids' ice cream desserts. Not many people can resist the popular chocolate fountain or ice cream sundae bar that's often set up for the kids. "Whenever there's a make-your-
own-sundae bar, you see adults coming from the elaborate dessert displays to get a scoop of ice cream with sprinkles and chocolate syrup."
Décor Matters
Make the surroundings special. There's a big difference between casual entertaining and an elaborate affair. If elegance is the goal, she notes, the décor must reflect it. Don't skimp on flowers, china, table linens, or glassware, Beth cautions. "If you want your party to have the look and feel of an upscale event, you can't miss a detail," she says.
More delicious food for parties