Wearing heels that are sexy and comfortable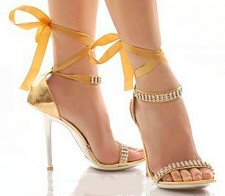 We all know the deal: Stilletos look hot!
Wearing them, we look sexy and feel sexy. High heels make our legs look great as we enter a room or spin around the dance floor during a night out, or at a party or special celebration.
We also know the likely result of wearing sky-high heels: Pain.
According to Lesly Robinson, DPM, of the Temple University School of Podiatric Medicine, in Philadelphia, women are nine times more likely than men to develop shoe-related foot problems.
The increased pressure on the ball of the foot causes many painful problems, says Robinson. "You're getting overlapping toes, contracted digits, pain on the ball of your foot, calluses, and even bunions, hammertoes."
And there's more: High heels contribute to pain in our Achilles tendons, ankles, knees, and—since wearing heels thrusts our bodies forward into an unnatural position—our backs.
Still, most of us aren't willing to give up sexy high heels altogether. But there are some ways to wear stilettos and feel--well, maybe not great—but at least better at the end of the night:
Choosing high heels:
High heels push feet forward, cramming toes into the front of the shoe; the pointier the toe box of the shoe, the more your toes will be crushed. For some women, a more rounded toe box, or even an open toe will relieve some of that potential pressure
The more straps on a sandal, the more opportunity for blisters
Don't opt for teetering on needle-thin heels, regardless of heel height; the greater the width of the heel, the greater your stability, and the less likelihood that you'll fall or twist your ankle.
Slightly lower heels (some podiatrists recommend 2 ½ inches max) with narrow heels will still look sexy, but will distribute your weight more comfortably
Regardless of the style you select, wear any shoes you're considering buying for at least 5 to 10 minutes in the store. If they already hurt then, they'll probably cause you agony later.
More great ways to look fabulous