Leftover turkey ideas: 7 great recipes for entertaining
Here are 7 great recipes for party-worthy dishes that start with leftover turkey.
All are delicious, pretty to serve, and perfect for entertaining out-of-town guests or friends and family members who stop by during the holiday season.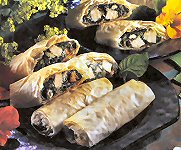 Herbed turkey strudel rolls
Makes about 3 1/2 dozen rolls
1/4 cup onion, chopped
2 cloves garlic, minced
1/4 cup red pepper, diced
2 Tbs. vegetable oil
1 cup ricotta cheese
1 1/4 cup cooked turkey, diced
1 1/4 cup frozen spinach, thawed and squeezed dry
1 egg
1 tsp. salt
1/2 tsp. pepper
1/2 tsp. dried marjoram
1/4 tsp. dried rosemary
1 lb. frozen phyllo dough, thawed
4 oz. melted butter or butter-flavoured cooking spray
Saute onion, garlic, and pepper in hot oil until softened.
Stir in cheese, turkey, spinach, egg, salt, pepper, marjoram, thyme and rosemary until well mixed.
Remove 2 sheets of phyllo, keeping remainder covered with a damp cloth, and lightly brush one sheet with butter or spray.
Top with a second sheet, cut lengthwise into 4 even strips. Place 1 Tbs. filling about 1 inch from bottom of strip. Fold bottom edge over filling, then fold long edges in to enclose filling. Brush or spray phyllo and roll up to the end. Repeat until filling is all used.
Place seam-side down on lightly greased baking sheet. Bake at 375° F for 10 to 15 minutes or until golden brown.
Serve warm or freeze and re-heat to crisp.
*Note: To make larger rolls, cut phyllo into 2 strips and use 2 tbsp. filling. Cut in half to serve or don't cut the phyllo and use 1/4 cup filling. Cool to lukewarm; cut into thick slices to serve.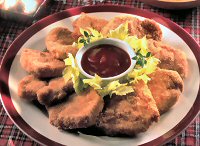 Turkey croquettes with honey barbecue sauce
Makes 8 servings
3 cups cooked turkey meat, finely chopped
1 1/2 cups seasoned bread crumbs
3 eggs, slightly beaten
2 cups sauteed, chopped onion
1 Tbs. chopped, fresh parsley
1 tsp. salt
1/2 tsp. pepper
2 Tbs. vegetable oil
Honey Barbecue Sauce
2/3 cup ketchup
1/4 cup white vinegar
1 tsp. granulated sugar
1 tsp. dry onion flakes
Salt and pepper
2 Tbs. honey

Directions
In a large bowl combine the turkey, bread crumbs, eggs and onion and mix well.
Add parsley, salt and pepper to taste. Mix well and form into small patties.
Heat oil in a large skillet over medium heat and fry patties in oil until golden brown.
To make honey barbecue sauce, Bring all ingredients to boil in small saucepan, except honey. Season to taste with salt and pepper. Reduce heat and simmer for 15 minutes, stirring occasionally. Remove from heat and stir in honey. Pour in bowl and serve with the croquettes.
Recipe adapted from and photo by the Dairy Farmers of Canada
More delicious food for parties