Trends in Men's Formal Wear: Timeless Tuxedos
By Jessica Koslow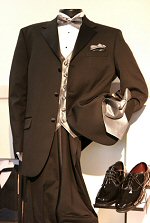 Although men don't have quite as many options as women do when it comes to dressing up, they do have some choices to make: Wing collar vs. spread collar shirt? Bow tie or four-in-hand neck tie? Cummerbund or vest?
We asked rental and retail outlets across the U.S. to find out what most men prefer, and then checked in with Fashion Week favorite and Pennsylvania-based men's designer Michael Wesetly for his fashion counsel.
What Most Men Are Wearing
Kris Taylor of Al's Formal Wear in Tulsa, Oklahomoa, says that her top tuxedo is the two-button notch lapel, but the three-button tux runs a close race. "The two-button jacket will always be in style,"she says.
Two-button notch tuxes are also the requested style at Washington D.C.'s Scogna Formal Wear and After Hours Formal Wear in Chicago.
Wesetly has his own advice for the button dilemma. "High three-button is my personal favorite. It presents a luxurious and fashionable sense of style and elegance."
"The most important thing when buying a tuxedo—or for that matter, a suit—is to find something that fits properly," urges Taylor. "It's all about how you look and feel, and a proper fit is the place to start." See Most flattering tuxedo styles for men.
Color Counts
At Scogna Formal Wear, black tuxedos are still the most popular color. The same is true at Macy's and Nordstrom's, according to several sales managers. Men typically choose lightweight wool in black, navy, or grey.
At Al's Formal Wear, Taylor says that he's taking more requests for tuxes in fall colors like chocolate brown and espresso, especially for weddings. After Hours Formal Wear's Kari Spela reports that name brands like Tommy Hilfiger are the favorite at her store in classic colors like black, ivory, and white.
Image credit: Tuxedo Junction
More great ways to look fabulous