Party design: Latest trends in event design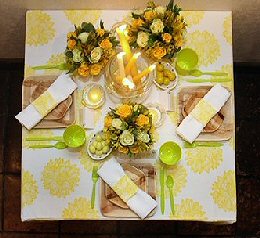 Sustainable products, such as bamboo plates, in the beautiful table décor designed by Danielle Venokur, of DvGreen, for a recent "EcoChic Entertaining" exhibit.

Photo courtesy of treehugger.com
Cool, green party elements
Danielle Venokur is owner of DvGreen, a Manhattan-based company that specializes in sustainable event design.
"I started the business a year and a half ago," says Venokur, who creates events throughout New York and other areas. "At that time, clients still questioned the green concept in catering. But there's been so much more awareness since then," she explains. "Now people understand what it means and we are getting tons of interest from corporations as well as private clients."
Venokur shares examples of how her personal commitment to sustainability translates into trendy event design.
Her company doesn't use any paraffin candles—only soybean and beeswax candles with organic cotton wicks.
She also uses only LED bulbs, which draw much less power than traditional bulbs.
Many of the generators used at her events run on vegetable oil.
Natural, biodegradable tabletop products such as bamboo or sugarcane plates are also used at her trendy events (see photo of table display, above).
Flowers are from local farms, whenever possible; if the flower of choice is not available from a local farm, Venokur says certified organic flowers will be brought in. [Note: Potted plants are another beautiful alternative.]

"The idea isn't to hit guests over the head that this is a green event," Venokur emphasizes. "In fact, some guests might not even know it's a green event. And that's fine. The goal is to have everything green, but it's also very important that each event is fabulous and high-end."
Other ways caterers and event planners can be trendy, as well as green, is to use eco-friendly invitations and cocktail napkins, made of recycled paper and in some cases, vegetable-based inks.
More pretty ideas for gorgeous parties