Tents for parties: Tips for Your Outdoor Celebrations
By Karin Greenberg
The minute you decide to have an outdoor at-home party, you start crossing your fingers, hoping for great weather. What if, however, instead of a clear, calm evening under the stars, Mother Nature were to deliver high winds or chilling rain?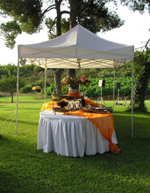 If bringing the party indoors isn't an option, renting a tent should be at the top of your To Do list.
Many choices
There are about a half dozen types of tents, says Chris Taylor of
A to Z Party Rentals, in Plainview, New York. Some are secured by interior poles, and staked to the ground; others have frames and offer a pole-free interior. Similarly, you can rent tents with open sides, walls made of mesh, or tents with heavy sidewalls and cathedral shaped vinyl windows.
Beyond considering the potential weather, here are other factors to keep in mind:
Location
Where do you plan to put the tent? Pole tents must be staked in the grass, whereas frame tents can be set up on grass, as well as concrete, asphalt, or brick patios.
Size
Generally, if guests will be standing and moving about, rather than sitting, figure six to eight square feet per person. You'll need about 10 to 12 square feet per person for seating inside a tent.
Then consider space for buffet stations, or a sushi bar, or the DJ who comes equipped with console, speakers, and amplifiers. For a typical party with all of these add-ons, 20 square feet per person is the rule of thumb, says Taylor. A dance floor, too? Allow three to four square feet per person.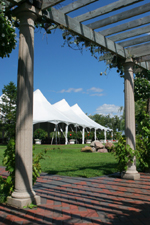 Scheduling:
With heating and cooling systems readily available, people use tents throughout the year. If your party will be held during one of the colder months, call at least eight to 12 weeks in advance. For an occasion to be celebrated between May and October - in a high-demand area - six to eight months before your planned event date is not too early to call.
Costs
Tent rentals can range from $300 to $10,000 or more, depending on size, season, and the need for any or many of the dozens of possible extras. A popular, medium-sized open frame tent designed to shelter 60 to 80 people from summer sun would run about $495.
Bump up the guest list to 100 to 120 guests partying on an expansive lawn and you might want a
40 x 60 tent held up by poles and ropes. That would rent for about $1,400.
Now add frosty weather to the mix. The same number of guests sheltered in a 40 x 60 frame tent (no poles) with heavy-duty side walls would run about $2,300. And don't forget the electric heaters - each one rents for about $150. Click here to see "Outdoor parties: Keeping guests comfortable."
The list of extras that rental companies offer is extensive - and can add elegance to any tent event. Among the possibilities: pretty chandeliers for indoor lighting, and draped fabric ceiling liners.
You might also enjoy:
More expert advice and party planning tips