Top Halloween costume choices for adults and kids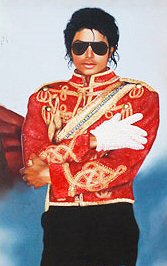 Michael Jackson is likely to inspire the costume choices of lots of grown-ups and kids, this year.
"When you go to a party there will be a person dressed as Michael Jackson, no doubt," said Jalem Getz, president and CEO of Buyseasons Inc., the parent company of BuyCostumes.com, in a recent interview on CNN Money.
"Searches for the costume, which generally includes tight black pants, a leather jacket and, of course, a glittering glove, have gone up more than a 1000%, according to Getz.
"Other popular dead celebrity costumes include Farrah Fawcett, Ed McMahon and infomercial pitchman Billy Mays.
"Heath Ledger-inspired Joker costumes, as well as the Dark Knight, may also reappear this year."
Witches, superheroes, and princesses still reign
Still, year in and year out, the most popular costumes list for kids features the make-believe, and for adults, the slightly naughty.
This year's list, according to the National Retail Federation's (NRF) 2009 Halloween Consumer Intentions and Actions Survey, contains familiar characters.
Here, courtesy of the NRF, is a handy guide to what will be hot for Halloween:
Top Adult Costumes

1. Witch

2. Vampire

3. Pirate

4. Clown

5. Wench/Tart/Vixon

6. Cat

7. Devil

8. Scary Costume/Mask

9. Athlete

10. Police Officer

Top Kids Costumes

1. Princess

2. Witch

3. Spider-Man

4. Pirate

5. Pumpkin

6. Vampire

7. Disney Princess

8. Star Wars Character

9. Tinker Bell

10. Batman

Top Pet Costumes

1. Pumpkin

2. Devil

3. Bowties/Fancy Collars

4. Witch

5. Superdog/-cat

6. Princess

7. Bat

8. Dog

9. Angel

10. Bee
More ways to make holidays memorable